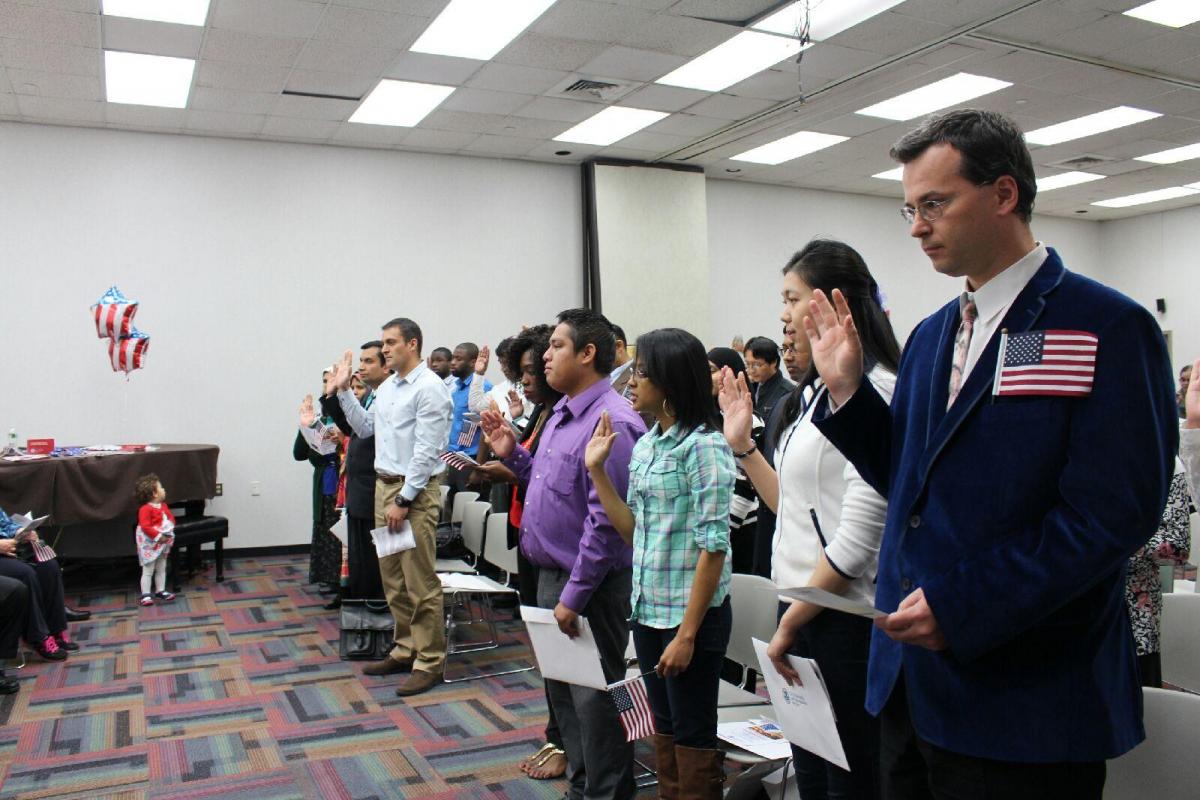 Piscataway Public Library's Kate Baker wanted to acquaint New Jersey's newest Americans with the services their public libraries provide – by making it the first place they visit as U.S. citizens.
On May 9, 25 new Americans were joined by over 75 family members and friends to celebrate their citizenship at the Piscataway Public Library. Each new citizen was given a small American flag, and by the second line of the National Anthem – sung by a children's librarian – many were in tears and singing along, their flags waving passionately. Also in attendance - the mayor of Piscataway, who took part in the ceremony, along with a town council member and two directors from the U.S. Citizenship and Immigration Services Newark Office (USCIS).
Baker, a special populations librarian, whose job it is to work with people who are new to the community, had reached out to the USCIS office in Newark a few months prior to plan the event. It was a total collaborative experience: the USCIS director explicitly outlined the requirements for the ceremony and conducted a site visit to ensure the library could offer adequate space, and Baker selected guests for the keynote, National Anthem, and Pledge of Allegiance. 
It was a special day for two new citizens in particular, who received a formal acknowledgement during the ceremony because they had been students of the library's citizenship class. Still, in her welcome remarks, Baker acknowledged not all of the new Americans were familiar with the public library. 
"It's great to see your family and friends supporting you today," she said, "but the library wants you to know that you'll always have our support, too: we are here to help you learn and accomplish your goals as new Americans." 
Every year, libraries across the U.S. host naturalization ceremonies for new citizens, and USCIS is actively interested in partnering with libraries. It's a fairly recent practice in New Jersey, however  – Plainfield Public Library began hosting ceremonies four years ago, and Piscataway Public Library began just this year. Baker says that despite the small number of N.J. libraries that take part, it's exceedingly easy – and exceptionally rewarding.
Ally Blumenfeld
​Paterson Free Public Library