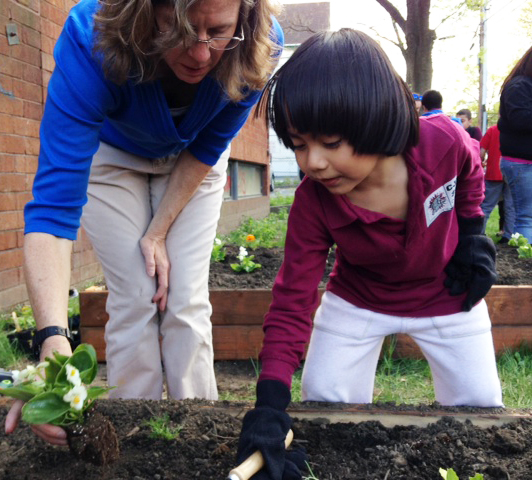 On a warm spring afternoon, children gathered in a small yard located just feet from Paterson's bustling Main Street. 
Tara Murphy, a children's librarian at the Paterson Free Public Library (PFPL), and Colin English, City Green's youth programming assistant, have something very special planned for the day's Garden Club activities. 
"Flower grenades?!" shout some very enthusiastic boys, still in their school uniforms. Their backpacks were thrown into a heap on the only patch of lawn left in the yard - the rest of which is filled with raised-bed garden boxes. 
The Southside branch of PFPL is one of a growing number of libraries that are engaging sprouting patrons with hands-on learning experiences such as gardening. Through a partnership with the state's leading urban agriculture organization, City Green, two branches of PFPL and the main branch of the Clifton Public Library have been granted funds and technical assistance to create and sustain community gardens. These projects have served as educational centers for children and as a resource for parents whose children come home with garden-fresh produce every week.  
"We at City Green are proud to partner with our local libraries through 'Dig In!' - a Passaic County Community Gardening and Neighborhood Farming program," said Jennifer Papa, City Green's executive director.  "There is a natural partnership between our organization and our local libraries that serve as wide-reaching information and education centers for the community." 
Libraries are more than just reading during the summer – they are the place for communal activity.
Jasmine Moreano
Director of Community Engagement, City Green